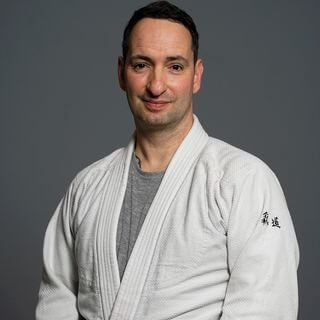 Panagiotis Agrios Sensei
---
Panagiotis Agrios was born in Athens in 1975. From a young age he started playing sports by boxing, while his first contact with the field of martial arts was with judo at the age of 17. Athlete of the Panhellenic Gymnastics Club, he studied with Athanasios Kaparos.
After completing his studies in the preservation of antiquities and completing his military service, he began to engage in the art of Aikido. The difference of aikido in relation to what he had done so far, leads him to practice intensively with it. Shortly before becoming the holder of the black belt, he makes his first trip to Japan and remains an in-house student of Kazuo Igarashi Sensei. Returning to Greece, he has already realized how crucial it was for this trip and decides that he wants to pursue Aikido professionally.
At the same time he learns the Japanese language in order to get closer to the Japanese culture and next year he visits Japan again. Knowing Japanese culture better, he focuses his efforts on getting in touch and becoming a student of the oldest Japanese fencing school, the Katori shinto ryu. Finally, after years of efforts, he finally manages to start his apprenticeship under the supervision of Erik Louw Menkyo katori, Holland shidosha, with whom our school is directly connected with Otake Risuke sensei, the only representative of art today.
In October 2014 in Amsterdam, the Netherlands, in the presence of Nobutoshi Otake sensei, he took the traditional keppan blood oath and now officially belongs to the Katori shinto ryu family. Since then until today he deals with Aikido attending seminars by teachers from abroad, teaching at the school of Aikido Bushido Center.
In 2022 the Shinbukan dojo granted him the position him of Shidosha and recognized him as the official representative of Katori shinto ryu in Greece. It is worth noting that he is the first Greek to receive this teaching permit.
He holds the rank of 5th Dan in Aikido, 1st Dan in Judo and 1st Dan jiu jitsu. He is a certified Jiu Jitsu coach by the General Secretariat of Sport and also a certified trainer (Shidoin).
He also holds the degree of Master Usui Reiki and is an instructor of the voluntary Aikido learning program of KETHEA in the womens prisons of Thebes.
Organizational Administrative Experience
RECOGNIZED REPRESENTATIVE FOR THE PROMOTION OF KATORI SHINTO
RYU "SHIDOSHA" IN GREECE BY THE SHINBUKAN DOJO OF JAPAN
FOUNDER OF THE ORGANIZATION UNITED AIKIDO DOJOS CHAIRMAN OF THE
TECHNICAL COMMITTEE AND RESPONSIBLE FOR TRAINING ISSUES OF THE
ORGANIZATION (Recognized organization by Aikikai foundation Japan 2020 )
FOUNDING MEMBER OF THE HELLENIC AIKIDO PARTNERSHIP A TEAM FOR
THE PROPAGATION AND DEVELOPMENT OF AIKIDO IN GREECE IN 2008
OFFICIAL REPRESENTATIVE OF THE AIKIDO WORLD ALLIANCE
ORGANIZATION FOR GREECE FOR THE YEARS 2013-2015
George Alessios
---
George Alessios was born in 1975. He was first acquainted with the world of sports through Greco-roman wrestling and freestyle wrestling, which he practiced from 1984 to 1986. He then studied other martial arts and in the end, he chose Aikido.
Since 2004, he has been systematically trained in the art of Aikido, where he holds a 3rd Dan rank.
On the same time, he was also trained in the art of Judo, next to Athanassios Kaparos Sensei and he has received the rank of 1st Dan. He is currently training in Athens Bushido Center and teaches at Shuren Dojo.
Raphael Prifti Fukushidoin
---
Raphael Prifti was born in 1989 and he was interested in martial arts from a very young age. He has been practicing Aikido for the past 7 years, as it is the art which won him over so next to Panagiotis Agrios Sensei he reached the rank of Nidan (2nd Dan) Aikikai.
He has also received the title of Fukushidoin, a rank certifying that he can act as an assistant instructor, on an international level and teach at UAD dojos. Raphael is an assistant instructor in Athens Bushido Center as well as an instructor at the Masagatsu Dojo.